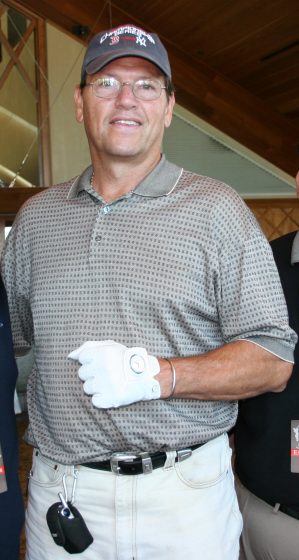 (Notice the cap, paying tribute to the Yanks-Sox rivalry.)
Carlton Fisk, a Red Sox icon... a Yankee? Supposedly, it almost happened.
After the 1985 season, the Chicago White Sox didn't want to sign him to a new contract, and Don Baylor wasn't happy with the reduced at-bats he was getting as a Yankee. So a trade was discussed, but since Fisk's contract had run out, and the MLB owners were then in the early stages of the "collusion" for which they would later be massively penalized, the Yankees wouldn't simply sign Fisk. The ChiSox would have to sign Fisk first, then trade him to the Yankees for Baylor.
But owners Jerry Reinsdorf and Eddie Einhorn (a.k.a. the Reinhorn Twins) couldn't come to an agreement with Fisk, and the trade fell apart before, ultimately, Fisk was re-signed.
Don't believe me? Here's a link: http://en.wikipedia.org/wiki/Carlton_Fisk#Almost_a_Yankee
True, it's hard to imagine the former heart and soul of the Boston Red Sox, a man who had home-plate collisions-turned-brawls with Thurman Munson in 1973 and Lou Piniella in 1976, a man whose rivalry with fellow catcher Munson turned nasty at other times, in Pinstripes. (Since Butch Wynegar already had the Number 27 Fisk wore in Boston, Fisk probably would've kept the Number 72 he wore in Chicago.)
But we've seen Red Sox legends Wade Boggs and Roger Clemens as Yankees. We've seen Met icons Darryl Strawberry, Dwight Gooden, David Cone and, if you can call him a "Met icon," Joe Torre as Yankees. We've seen famed Yankee Killers Clemens, Rickey Henderson, Jose Canseco, Jimmy Key and Randy Johnson as Yankees. So is it really that odd to think that Fisk might have been a Yankee?
What would have happened?
*
First, let's address the team for whom he really did play, the White Sox. They came close to an AL West title in 1990, won it in 1993, moved to the AL Central and were on track to win it when the Strike of '94 hit... but '93 was Fisk's last season, and he'd already been replaced by Ron Karkovice.
So unless Fisk's absence is so debilitating to the team, and Baylor's presence not enough of a lift, as to prevent the approval of the funding for the new Comiskey Park (what is now U.S. Cellular Field) in the Illinois legislature in 1988, which would have sent the Pale Hose to Tampa Bay, chances are nothing changes for the that team.
Would having Fisk have benefited the Yankees? His 1986 to 1991 seasons were okay, but not great. Then he tailed off, just in time for the Yankees to get good again. But he was still better at the plate than Wynegar in '86, the triad of Rick Cerone-Joel Skinner-Mark Salas in '87, and the platoon of Salas and Don Slaught in '88. In those seasons, the Yankees missed winning the AL East by 5½, 9 and 3½ games.
Would Fisk's hitting and handling of pitchers have made a difference? In '86, probably not. In '87, definitely not; it's not often that one player, especially one 40 years old, can make a 9-game difference over the average player.
In '88, possibly: A 6-game losing streak from August 25 to 30, right in the middle of a roadtrip that began with a makeup game in Milwaukee (a frequent trouble spot for the Yanks when the Brewers were still in the AL), followed by that seemingly-inevitable annual Coast-trip killer of Anaheim, Seattle and Oakland, hurt the Yanks very badly. They lost the Milwaukee game. They got swept by the Angels, losing 7-6 (in 12 innings), 12-0 and 13-2, as bad a series as they've ever had since I've been old enough to pay attention. They salvaged the finale against the Mariners and only won the first against the A's. Then they dropped 2 of 3 at home to Cleveland (I was at the Tuesday night game, an awful 1-0 loss with Greg Swindell outdueling Al Leiter), before sweeping a 4-game set with Detroit (I was at the Saturday afternoon game). But dropping the last 3 of a 4-game set at Fenway in mid-September dashed their hopes, and dropping the last 3 of the season in Detroit ended them. Could Fisk have done enough in that stretch, 17-20, to make it 22-15 (thus avoiding a 10th Anniversary Playoff with the Red Sox) to win the AL East? Maybe.
Actually, what really killed the Yankees in 1988 was an injury to John Candelaria, a Brooklyn native who'd starred for Pittsburgh and had pitched for the Mets the year before. He was 13-7 with a 3.38 ERA, but pitched an inning and a third on August 24 and was out for the year. Maybe Fisk would have seen something in the Candy Man before that, and he could've been taken out before it got worse, and been available, so the Yankees wouldn't have had to use relievers like Lee Guetterman and Pat Clements as starters.
Candelaria gets forgotten today, but in his career he was 177-122, with a 114 ERA+ and a 1.184 WHIP. He was really good, and still a solid pitcher at age 36. He was 34 in 1988, and from August 24 onward the Yankees had several games where Guetterman, Clements, Charlie Hudson, Scott Nielsen, Dale Mohorcic and Steve Shields were the losing pitchers.
So in TTL-1988 we have the first-ever season in which both the Yankees and the Mets make the postseason, which didn't happen in RL until 1999. The Yanks beat out the Red Sox for the Division, and face the Oakland Athletics in the ALCS (remember, no Division Series in those days).
In RL, the A's won 104 games and swept the Sox, then got embarrassed by the Dodgers in one of the biggest World Series upsets.
If we use the Yankees' actual rotation of that season, and how it worked out in their final few starts, here's how the TTL-1988 ALCS would have stacked up, presuming the Candy Man comes back:
Game 1, Wednesday, October 5, at the original Yankee Stadium: Richard Dotson vs. Dave Stewart. Stewart was known as "Smoke," for good reason. He allowed just 6 hits at Fenway. But with the Yankees' lefty bats, it then becomes a question of whether Dotson could hold off the Oakland Bash Brothers. Probably not. In RL, A's 2, Red Sox 1. I'm not sure what the TTL-score would have been, but the A's still win, and lead 1-0.
Game 2, Thursday, October 6, at Yankee Stadium. Rick Rhoden vs. Storm Davis. Davis was a good pitcher, but Rhoden was a find for the Yanks that season. The A's needed 3 runs in the 7th off Roger Clemens and 1 in the 9th off Lee Smith to win it. Maybe Dave Righetti slams the door. Yankees 3, A's 1. Series tied 1-1.
Game 3, Saturday, October 8, at the Oakland-Alameda County Coliseum: Tommy John vs. Bob Welch. The Yankees don't have Reggie Jackson to hit against Welch anymore, but then, neither do the A's have Reggie to hit against Fritz Peterson. In RL, the A's clobbered 1983 Oriole hero Mike Boddicker. But they're not going to like batting against TJ's sinkers. Yankees 6, A's 2. Yanks lead series, 2-1.
Game 4, Sunday, October 9, at the Coliseum: John Candelaria vs. Stewart. No way Stew has 2 bad outings in a row. Not at that stage of his career. He held the Sox to 4 runs in RL, riding a Canseco dinger to a 4-1 A's win. Let's keep it that way, to keep it simple: A's 4, Yanks 1. Series tied 2-2. Remember, in RL, this was the end of the series. (It was Game 4 in 1990 when Clemens went nuts and the A's swept the BoSox, not 1988.)
Game 5, Monday, October 10, at the Coliseum: Dotson vs. Davis. Dotson bounces back, Davis doesn't. Yankees 6, A's 4. Yanks lead series, 3-2.
Game 6, Wednesday, October 12, at Yankee Stadium: Rhoden vs. Welch. Ten years earlier, they (and also Tommy John) were Dodger teammates, going against the Yankees (including current manager Lou Piniella) in the World Series. If this were 1990, by which point Rhoden was washed up and Welch was winning 27 games, I'd give it to Welch. Not this time: Mike Pagliarulo homers off him in the 8th, and the Yankees win, 4-2, and win their 34th Pennant.
There is no Subway Series, as the Mets have capitulated to the L.A. O'Malleys. The National League half (pardon me while I laugh) of New York had their best chance yet to gain revenge on the family that stole the Dodgers from Brooklyn, and they failed.
*
The TTL-1988 World Series: It's Yanks vs. Bums, for the 12th time – the 5th since the Bums caught the last train for the Coast.
Game 1, Saturday, October 15, at Dodger Stadium: John vs. Tim Belcher. In RL, TJ appeared in 3 World Series, all Yanks vs. Dodgers, and lost them all (1977 and '78 with the Bums, '81 with the Yanks). Time for redemption. In RL, the Bums scored 2 in the 1st off Stewart, but the A's came back with 4 in the 2nd to knock Belcher out of the box. In 1995, Belcher would be a Seattle Mariner, and give up Jim Leyritz's 15th inning homer in the rain – for all the good THAT did the Yanks in the end. You know how this game ended in RL: Kirk Gibson vs. Dennis Eckersley. And the Eck was a much better reliever than Rags. Well, guess what: Righetti was a lefty. You think Dodger manager Tommy Lasorda is gonna send Gibson up against a hard-throwing lefty? Maybe, he was dumb enough to led Tom Niedenfuer pitch to Jack Clark in the '85 NLCS, and a Pennant-winning homer was the result. (And Clark was the Yanks' main DH in '88.) Righetti strikes out Gibson. Yanks 4, Bums 3. Yanks lead 1-0.
Game 2, Sunday, October 16, at Dodger Stadium: Candelaria vs. Orel Hershiser. Scratch this one: Hershiser pitched a 3-hit shutout against the East Bay Bash Brothers, and there's no reason why he can't do it against the Bronx Bombers. Same score as in RL: Dodgers 6, Yanks 0. Series tied 1-1. But to get out of Chavez Ravine with a tie is pretty good, especially since the RL-A's couldn't.
Game 3, Tuesday, October 18, at Yankee Stadium: Dotson vs. John Tudor. The 11th anniversary of Reggie Jackson's 3 homers, and don't think that TTL-George Steinbrenner doesn't want to invite Mr. October back to throw out the ceremonial first ball. In RL, this was a tight pitchers' duel between Welch and Tudor, who was one of the heroes of the St. Louis Cardinals' 3 Pennants in the Eighties. Now in Dodger Blue, he's facing Yankee Pinstripes instead of Oakland Green. Mark McGwire won this with a walkoff homer, making it the only RL-World Series with 2 walkoff homers. (Not to mention Eck coined the phrase "walkoff homer" after giving up Gibson's.) Maybe Fisk is the hero this time. Or Don Mattingly. Or... naw, Tommy Lasagne wouldn't bring Niedenfuer in to face Clark again, would he? Would he? Nope, Niedenfuer had been traded to Baltimore. So he brings in the man who gave up the not-so-Big Mac's homer, ex-Yankee Jay Howell. Doesn't matter: Clark hits it into Monument Park. Yanks 2, Bums 1. Yanks lead Series by same margin.
Game 4, Wednesday, October 19, at Yankee Stadium: Rhoden vs. Belcher. Belcher was better this time, and maybe the Dodgers tie it up. Dodgers 4, Yanks 3 (the RL score), and the Series is tied, 2-2.
Game 5, Thursday, October 20, at Yankee Stadium: John vs. Hershiser. Two of the smartest pitchers who ever lived. In RL, on 3 days' rest, Hershiser was very strong, going the distance and allowing just 2 runs on 4 hits and 4 walks. The Dodgers scored 2 in the 1st and 2 in the 4th off Storm Davis; even at age 45, TJ could do better than that through 4. Still, I don't see the Yankees winning this one. Dodgers 3, Yanks 2. Dodgers lead Series by same margin.
Game 6, Saturday, October 22, at Dodger Stadium: Candelaria vs. Tudor. The Candy Man hasn't made much of a difference yet, but he does have 4 days' rest while Tudor has just 3. And, if you'll remember, Tudor spit the bit for the Cards in the previous year's Game 7. I see a Mattingly homer. I see a Clark homer. I see a Pags homer. I even see Dave Winfield shaking off George's "Mr. May" tag and homering. Yanks 9, Bums 5. We're going to a Game 7!
Game 7, Sunday, October 23, at Dodger Stadium. Does Fat Tommy bring Orel back on 2 days' rest? It worked for Bob Gibson in '64, Sandy Koufax in '65 and both Denny McLain and Mickey Lolich in '68, but not Jim Lonborg in '67. Well, it is Game 7, which means Johnny Wholestaff needs to be ready. That means Hershiser doesn't start, but he may come out of the bullpen. After all, he'll have 4 months of rest before pitchers and catchers report. So it's Tim Belcher for L.A. For New York? Richard Dotson on 4 days' rest, or Rick Rhoden on 2? Sweet Lou gambles and goes with Rhoden, who attempts to become the 2nd Yankee World Series hero, after Mickey Mantle, to have survived osteomyelitis as a child.
Belcher leaves a fat pitch in Winfield's wheelhouse, and Big Dave sends it into the San Gabriel Mountains. Mattingly scores ahead of him. It's 2-0 Yanks before the Dodgers even get to bat. The Yanks squeeze single runs across in the 3rd and 4th, and Tommy has seen enough: Out goes Belch... er, in comes Hershiser. Hershiser cruises through the 8th.
Rhoden starts fine, but wobbles in the 5th, allowing a run. Piniella takes him out and brings in Dotson, who gets out of the jam and is fine until the 8th. It's 4-1 Yankees, but the Dodgers load the bases with just 1 out. The pitcher's spot comes up, and Hershiser is a career .201 hitter. Lasorda needs a pinch-hitter. Back goes Hershiser, up comes Pedro Guerrero, a righthanded hitter. Out comes Dotson, in comes...
Candelaria? Lou guesses that Tommy really wanted to send Kirk Gibson up, and doesn't want to pitch Righetti for more than 1 full inning, so he sends in the Candy Man to make Gibson a lefty against a lefty. Seeing this, Lasorda leaves Guerrero in, and while he drives it to deep center field, it's not enough: Claudell Washington catches it, sends it home, and only 1 run scores. Candelaria gets Steve Sax to pop up, and the threat is over.
Righetti gets the last 3 outs, and the Yankees win, 4-2, and take their 23rd World Championship.
In 2007, ESPN Classic airs "The Top 5 Reasons You Can't Blame Tommy Lasorda for Pinch-Hitting For Orel Hershiser in the 1988 World Series."
Reason Number 5: Orel Hershiser. He'd only had 2 days' rest. Who knows if he would have had anything left to get 3 outs in the 9th inning? And he wasn't a good-hitting pitcher like Rick Rhoden or Bob Welch, or even...
Reason Number 4: Fernando Valenzuela. He was injured. If El Toro had been able to pitch in the postseason (which didn't matter in RL, as it turned out), Lasorda would not have had to give any postseason starts to...
Reason Number 3: Tim Belcher. If he had started Game 7 well, Hershiser wouldn't have been in the game in the first place.
Reason Number 2: Pedro Guerrero. He was a good hitter, and he did get one run home. Not to mention that Kirk Gibson we was injured, and a lefty besides, who would have batted against a lefty, either Candelaria or Righetti. Sending him up to pinch-hit would've been a bad idea. So Guerrero was the Dodgers' best option.
Reason Number 1: The Yankees were better.
*
For Dave Winfield, Tommy John, Rickey Henderson, Don Mattingly and, yes, Carlton Fisk, it is their first ring.
It is not, however, the start of a new dynasty. Injuries to Winfield, Mattingly and Clark lead to TTL-1989 being just like RL-1989, and the Yanks go downhill fast. The history we know reasserts itself. By 1993, the next Yankee dynasty is underway, but, of the '88 Yanks, the only one who will make it even to the end of '93 is Mattingly. And he won't make it to '96, just like in RL.
But if Carlton Fisk had become a Yankee, as weird as it would have seemed, it might just have meant a big, big difference.
Especially for the Mets, and their fans, as their momentum from '86 dies after only 2 years, and the Yankees and their Fans reclaim New York 8 years sooner. Tough luck for the Flushing Heathen. Poor babies.